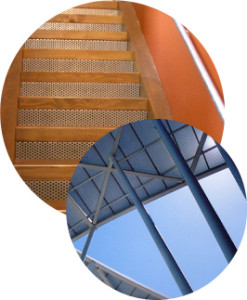 While different machines can produce holes (ex. turret presses, CNC presses, etc.),full-width perforating presses are designed specifically to quickly and accurately produce the largest number of holes per hit – making them the most efficient and therefore the most economical in producing perforated material.
At Ferguson we are able to produce as many as 400,000 holes / minute. Our perforating presses can be programmed to create blank areas, vary hole spacing, create margins, and place locator holes. We do this with extremely tight spacing tolerances. With such speed, accuracy, and versatility, full-width perforating presses provide substantial cost savings because they not only allow for a multitude of designs to be produced, but also eliminate additional production processes which will cost you money.
Perforating takes many minute variables which need careful attention. Tooling to make the desired pattern, programming for the correct distance between holes, panels, and/or parts, and the purchase of the specified material all need to be accomplished prior to any holes being punched. Much work must be done, and many decisions are made before we start, and Nothing is more important than ironing out the specifications of the product because they determine production requirements and directly affect the quality, cost, and delivery.